Ever since we first looked at Greta Gerwig's 'Barbie' film, Barbiecore fashion has been everywhere and we're here for it…The movie though, I am thinking about it as I write. Great cast, great director but is this enough?
Barbara Millicent Roberts (DOB 9/3/64) aka Barbie and me, aka BagButler are almost contemporaries. As a child, I never owned a Barbie doll although I may have envied friends who did. It was the little shoes and accessories that would have appealed to me.  
As well as being from the same era, Barbie and I have something else in common which is an ability to career pivot.  Barbie has had over 200 careers (!) including being a jazz singer, an Olympic swimmer, an 'eye doctor', a film director, a producer, and a Mcdonald's cashier.  My own list is more modest but does total about 16 roles and counting. As Aqua's Barbie anthem proclaims, 'Imagination, life is your creation.'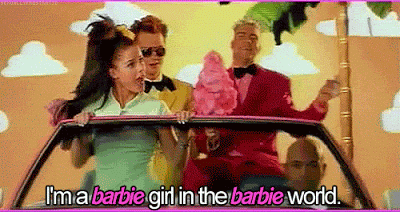 In recent years, Mattel has reworked Barbie so that we can see ourselves in her, whatever our shape, background, and status. Personally, I still don't get it and I guess at the end of the day you are either a Barbie lover or hater.
However, in the spirit of open-mindedness, I probably will watch the film (Barbie – the movie) I understand Barbie is expelled from Barbieland for being just like the rest of us. Imperfect. (Perfectly imperfect of course. This is Barbie we are talking about!).
Like Voltaire's Candide, she then goes on the hunt for true happiness. Where will she find it? I want to like Barbie in all her iterations and I want her to be happy and more real. I like to think she will commit to something long-term for once, that she will give up plastic…in all its forms and that she will satisfy her fashion cravings by renting in line with one of her more recent career choices…a renewable energy engineer. Assuming she hasn't gone off pink and sparkly (and actually why should she?), these are what 2023 Barbie would rent from us. Come on Barbie, let's go Barbiecore!
Barbiecore is really just about having fun with your look, whether you're headed out for drinks, going to the office, or setting off on an international adventure…So what are you waiting for? Head over to our home page to complete your Barbie look now!
Sincerely,
Tina